Adobe Springs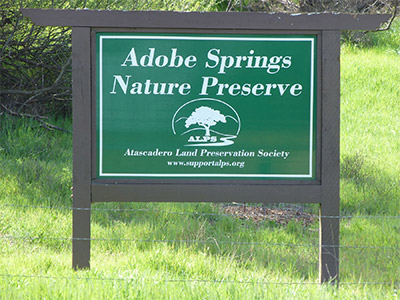 ALPS acquired this five acre parcel of undeveloped, open space located across Traffic Way from The Lakes subdivision in 2008. Adobe Springs, as it is known today, is a wonderful historic and natural resource in our community. These natural artesian springs have existed longer than anyone knows. "Artesian" means that their source comes from deep in the earth. Their volume is consistent and not affected by the weather.
Historically, many groups have utilized the springs. They were used as a reliable drinking water source for Native Americans for several centuries. The Juan Batista de Anza party journeyed along the Salinas River corridor area and according to his diary on March 4, 1776 camped at a place called La Asuncion and possibly drank from these springs. In 1812, an adobe building was constructed near the springs as a southern outpost for Mission San Miguel and was used as a grainery and sleeping quarters. The adobe lasted over 150 years. Throughout this time and into today, these springs have also been a valuable water source for wildlife, especially in late fall, when other water sources have dried-up.

The Atascadero Land Preservation Society is the proud steward of Adobe Springs. Adobe Springs is not open to the public. Docent led hikes are available upon request. Ongoing projects at Adobe Springs include restoration of native habitat and environmental education through docent led hikes for local school children. ALPS obtained a National Park Service Grant to develop the educational program called Adobe Springs Interpretive Program.