Native Tree Committee History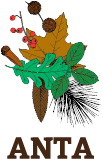 Atascadero Native Tree Association (ANTA) was founded in approximately 1988. The organization was instrumental in early efforts to preserve and protect the urban forest in the City of Atascadero. Over the years, ANTA has completed a wide range of projects related to native trees and our urban forest. These have included participation at many conservation and educational events, including Conservation Day at the Zoo, Earth Day, Arbor Day, and Day of the Oak. ANTA participated in the City's oak seedling give-away, in which the City provided native trees grown from local stock for citizens of Atascadero to plant on their properties. ANTA has taken part in the production of the annual Woodlands and Watersheds Calendar that is distributed by the Atascadero Mutual Water Company. ANTA also planned and participated in many planting and restoration projects, first through a volunteer base and later in cooperation with both the City and volunteers. For many years ANTA has given scholarships to Atascadero High School graduating seniors who plan majors in a field relating to our environment.
The Atascadero Native Tree committee formed in 2016 when the Atascadero Native Tree Association (ANTA) joined forces with ALPS to become one organization. The Committee has undertaken the responsibilities previously overseen by ANTA.