Native Tree Resources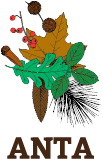 We will continue to update this page with information relevant to tree regeneration and care of our existing native forest. We provide handouts on how to protect seedlings to encourage regeneration, links to other organizations that provide more information, and updates as new information becomes available.
Atascadero Seedling Protection Brochure – this guide illustrates how to protect seedlings on your property and encourage survival.
University of California (UC) Oak Woodland Conservation Working Group: Living Among the Oaks – this 16-page guide summarizes information for property owners and land managers with oaks on their property.
UC Agricultural and Natural Resources: How to Collect, Store and Plant an Acorn – this 4-page handout explains how to collect, sort, store, and plant acorns for oak regeneration.
Additional UC Extension Oak Publication List - this site lists many UC Extension studies and reports, many of which are available for download free of charge.
CNPS CalScape – This site is one option to research appropriate locally native trees and understory species
California Oak Mortality Task Force - Sudden Oak Death information site. As of 2017, the pathogen causing sudden oak death is not present in our County but has been detected near the Monterey/San Luis Obispo county border.