ALPS Awards College Scholarships
June 1, 2016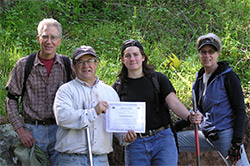 This year ALPS presented scholarships to two deserving recipients.
Crystal Martinez is a former corps member with the California Conservation Corps, who worked on the Three Bridges Oak Preserve trail construction last fall and winter. She impressed us with her hard work, cooperative and calm nature, as well as her ambitious goals. She was a great asset to the project both in her physical contributions and her influence in creating a positive teamwork approach to the crew dynamic. Crystal is pursuing an Environmental Engineering de-gree at Cal Poly, SLO.
---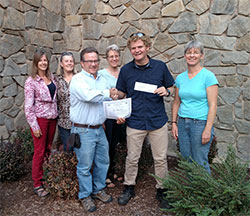 The recipient of the Geraldine Brasher Phemister Scholarship Award is Evan McLenithan, a graduating senior at Atascadero High School. Evan will be attending Cal Poly this fall majoring in Forestry and Natural Resources. Evan's ambition is to major in a field allowing him to become an educator or park ranger. His goal is to in-spire future generations to value and protect the great outdoors.
« Back to News